2013 Volkswagen Golf
Two-door or four-door? That is the question.  Either way, when you step into a new 2013 Volkswagen Golf, you're going to feel the happiness of convenience.  With available features like a power-tilting sunroof, touchscreen navigation with Dynaudio® sound system, Bluetooth® connectivity, SiriusXM satellite radio, heated front seats, a leather-wrapped steering wheel, and keyless entry system, there's nothing inconvenient about it.
When it comes to compact hatchbacks, the Volkswagen Golf provides all the great benefits of size without the sacrifice of power.  The baseline two-door Golf comes standard with a 2.5L 170 hp 5-cylinder engine--that's a lot of bang for your buck!  Did we mention that we offer a 2.0L TDI clean diesel engine option that gets 140 hp with a quick turbo boost, too?  It provides both great gas mileage of up to 42 MPG highway, and substantial turbo power, in one affordable package.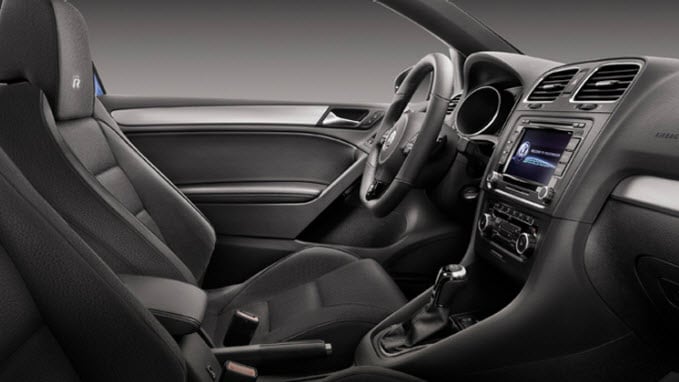 Not everyone is an adrenaline junky, but those who are will appreciate the 2013 Volkswagen GTI.  It has all the available features as the regular Golf, but with sportier amenities and features like a 2.0L, 200-hp TSI® turbocharged engine, 18-inch alloy wheels, more airbags (higher speed warrants higher safety) and a multi-function sport steering wheel. For all that extra torque we want to make sure that you stand out in the GTI--so it comes with its own special branding and exterior trim details that separate it from the rest.
For some, the term "adrenaline junky" just doesn't do descriptive justice.  It's not about just driving fast, but driving faster than the others.  We've got your next new Volkswagen right here:  the 2013 Golf R. Though the engine volume is the same as the other Golf trims, this model sports a 4MOTION AWD system that distributes the torque to all four wheels, accruing a white-knuckle total of 256 horsepower.  Like the GTI, the Golf R has its own trim decal, too.
Come to your friendly Quirk Volkswagen dealership in Braintree, MA, to find out more about the Golf models, and what will set you apart from the other compact hatchbacks when you're driving one.  Make it happen today.