2013 Volkswagen Jetta
Volkswagen has made the Jetta name one of many connotations. It evokes thoughts and feelings of class, sportiness, sophistication and safety. To think Jetta is to think superior options, fuel economy and care-free maintenance. The Volkswagen Jetta is a road veteran that has only improved over the years in style, performance and price.
On the 2013 Jetta you'll find an exterior that exemplifies a perfect blend between American and European styles.  It exhibits great features like running headlights, 17-inch aluminum alloy wheels, side-view mirror directional indicators, optional sunroof, an optional rear lip spoiler, and more.  The Jetta has a plethora of available engine styles: 2.0L or 2.5L volumes in regular, TDI, or GLI, plus a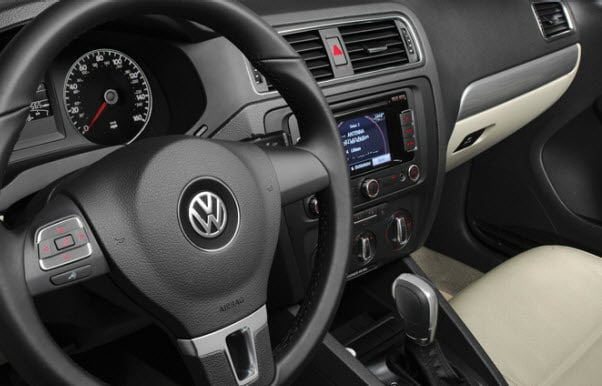 1.4L hybrid option.  Feel the pressure of a heart-throbbing turbo acceleration with the GLI, or take the conservative route with a hybrid engine that gets an estimated 48 MPG highway.  Consider the perfect blend of both, the 2.0L TDI engine, which pumps a turbo punch into fuel conservation with still an estimated 42 MPG highway.
Exercise luxury with the Jetta interior options, like a fully-integrated touch-screen navigation system with Bluetooth® phone connectivity and wireless media streaming.  Add convenience to your Jetta with optional Tiptronic transmission for complete drive control or a key-less entry system that lets you unlock and start your Jetta without even taking the keys out from your pocket.
With Volkswagen's 3-year care-free maintenance package, you can drive with ease knowing that our Quirk Volkswagen service shop has your back.  Our certified technicians will take great care of you and your vehicle at an introductory price you can't get anywhere else.  Did we mention that we use new synthetic oils that run 10,000 miles before needing to be changed?  Come to your friendly Quirk VW dealership in Braintree, MA today to test drive a new Jetta and feel the power of great engineering and magnificent craftsmanship.